The smallest Cricut cutting machine is now made available to the market. Crafting has been made an enjoyable experience for beginners with the launch of Cricut Joy made readily available to consumers. The Cricut Joy is a machine that was made compact but packed with features. Learn how it differs from other latest models such as the Cricut Explore Air 2.
Cricut Joy vs Cricut Explore Air 2 Comparison Chart
| | | |
| --- | --- | --- |
| Model | Cricut Joy | Cricut Explore Air 2 |
|   | | |
| Price | Check Price | Check Price |
| Length | 8.4″ | 22.17″ |
| Height | 4.25″ | 5.9" |
| Depth | 5.5″ | 7" |
| Weight | 3.9 lbs | 21 lbs |
| Cutting Versatility | Cuts 50+ materials | Cuts 100 materials |
| Max Cutting Area | 4.25″ x 6.5″ | 12″ x 24″ |
| Tools | Cricut Joy only | Compatible with Deep-Point Blade and Scoring Stylus |
| Software | Design Space | Design Space |
| Tool Holder | Single | Double |
| Colors | 1 | 8 |
| Storage | No | Yes |
| Connectivity | Bluetooth | Bluetooth |
| Upload Own Design | Yes | Yes |
User-Friendly
Your computer or mobile phone is capable of controlling both the Cricut Joy and Cricut Explore Air 2
Regardless if your operating system is Windows, Android, MacOS, or iOS, you will find it easy to start making crafts with the Cricut Joy and Cricut Explore Air 2. You're not limited to just your own creativity because Cricut's Design Space software allows you to choose from 50 project templates and even more projects made possible by Cricut Access.
Pairing is made easy on both cutting machines thanks to Bluetooth connectivity. Because of this, portability and ease of use are possible when you are in a rush to finish a project. The Explore Air 2 allows you to write and cut rapidly with its double tool holder. That would be the downside of the Cricut Joy since it only has a single tool holder which means that changing from one tool to the next is an added step.
Experienced crafters will find joy in knowing that they can do the mat-less cutting. It is such a hassle when you have to make materials adhere to a cutting mat and gently pulling them off to avoid any kind of tear. However, it only works with Smart Materials. Cricut Joy specializes in simple projects that are made in bulk because you can make them quicker and easier with a large number of tiny shapes.
Precision Cutting
The Cricut Joy is capable of cutting materials of up to 20 feet in length while the Explore Air 2 works with up to 12 inches in width.
The Cricut Joy is perfect when you're working on little projects such as stickers, tags, labels, greeting cards, and cupcake toppers. The maximum width it can hold is 4.25 inches which come with a 4.5" x 6.5" StandardGrip Mat with your purchase. No other cutting machine is capable of helping you do such small crafts. Of course, that is still tiny when compared side by side to the cutting area of the Explore Air 2 which is 12" x 24".
It is now possible to feed longer sheets of materials to the back of the Cricut Joy. The cutouts are then delivered from the front. What's great about the Smart Materials that Cricut designed specifically for the Cricut Joy is that you can cut several shapes on a 20-feet long roll or a 4-foot long shapes or simple repetitive cuts in one sitting. Best of all, you speed things up because there is no need for a cutting mat.
However, little and larger projects can be done with the versatility of the Cricut Explore Air 2. 100 types of materials that the Cricut Joy cannot handle is possible with the Explore Air 2. On some materials such as iron-on sheets, vinyl, or cardstock, you can enable Fast Mode which makes the process even faster.
Size and Aesthetics
The Cricut Joy showcases a smaller profile than the bulky Cricut Explore Air 2.
A lot of the fans of Cricut were not shocked by their latest cutting machine especially when the Cricut Easypress was followed by the smaller Cricut Easypress Mini. Cutting the size in half and the weight up to four times, the Cricut Joy is truly one small package. One-hand carry is easy to do and packing it in your bag makes it very portable wherever you go.
Another noticeable difference you will see is that the Cricut Joy is button-less. Simply plugging it will power the machine in an instant. The Fine Point Pen and the Blade comes as two separate tools which means that it would require you to change tools because of its single tool holder. The Explore Air 2, on the other hand, has a double holder and also has spaces for storage allowing you to tuck neatly any accessories that you may have while working.
Color options widely vary from the Cricut Explore Air 2 from a bright Raspberry to a muted Mint. The Cricut Joy only comes in white with teal trim.
Other Features
Cricut cartridges and several other tools are easily compatible with the Cricut Explore Air 2
Having spent several years in the market, just like any other device, a wider range of accessories can be purchased for the Cricut Explore Air 2. It supports all the Cricut cartridges and other fancy tools such as the Deep-Point Blade and the Scoring Stylus. Online, you can also see hundreds of inspiration from other crafters on what they do with their cutting machine in terms of design.
The excitement with the latest product does appeal to those who are considering the Cricut Joy. Set your expectations realistically though because of the limitations that the machine has such as a limited cutting/drawing area.
Verdict
The Cricut Joy is a better option for beginners than the Cricut Explore Air 2.
Cricut Joy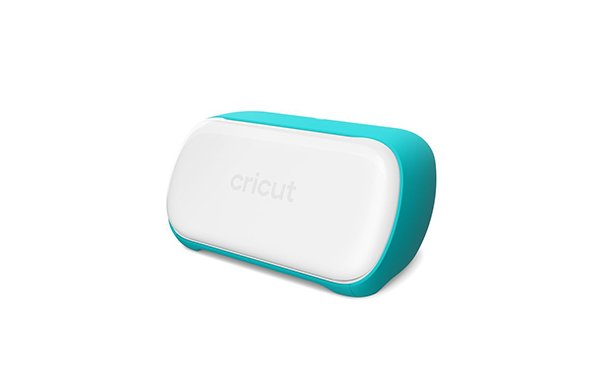 Cricut Explore Air 2
Two target markets will find the Cricut Joy beneficial: rookies and veteran crafters. This cutting machine is perfect for those starting out with small projects before venturing into doing bigger things. Hobbyists who have been doing crafts for a long time will complement the smooth workflow because of the capability of working without any mats. If you are, however, thinking of upgrading from some other cutting machine, then the Cricut Explore Air 2 is the better option because it allows you to showcase your creativity.